"Is this a lasting treasure/Or just a moment's pleasure/Can I believe the magic in your sights/And will you love me tomorrow." -The Shirelles "Will You Love Me Tomorrow" 1960
Being a wrestling fan is a lot like being a wrestler in many ways. The action in the ring can take its toll on your body just from watching. I remember walking to my car physically exhausted after watching Joe/Angle I live in 2006. The passion is so overwhelming at times that your emotions get thrown completely out of wack. When Shawn Michaels mouthed "I'm sorry, I love you" before superkicking Ric Flair's face off (another moment I was thankful to be live for), I could feel the tears ready to leave the station. The biggest similarity, however, is the simple fact that fans "turn" just as much as the wrestlers do.
Wrestling fans are fickle and can drop their allegiances at the drop of a hat. While it might not turning "heel" or turning "face" like the goodies and baddies in the squared circle, fans change and that's what keeps the business fresh.
This concept, along with Tope's column about WWE passing the torch, got me to thinking: how have my allegiances changed? What was the catalyst? How much of a shithead can I make myself look like on this site by admitting some of these things? So, I analyzed my life of fandom and came up with this list. I hope you don't lose too much respect for me.
Number 1: Hulk Hogan
Time Frame as My Favorite: 1/18/87 - 4/5/92
Why: When you get hand-me-down action figures from your mother as a child and you decide you like wrestling, the only other toys to continue to get for a kid are Hulk Hogan toys. Plus, come on, he was Hulk Hogan. He could do no wrong and he stood up for all of us Hulkamaniacs. Plus, he was the Suburban Commando.
Best Moment as a Hulk Fan: Wrestlemania VII when he beat that damn Iraqi sympathizer and brought the gold back to the US of A.
Worst Moment as Hulk Fan: Survivor Series 1991 when I thought the Undertaker really killed Hulk Hogan.
Most Embarrassing Moment I Shouldn't Really Share: At the Wrestlemania VIII press conference to announce Ric Flair's opponent for the WWF Title, I bawled like a baby, worried the Hulkster wouldn't get it. My mom had to reassure me that it would be fine and sure enough, she was right…for a couple of weeks until he was replaced by Macho Man.
Why I Jumped Off the Hulk Wagon: His departure at Wrestlemania VIII. He wasn't going to be around all the time, so I needed a new guy. Even when he came back the next year, I wasn't feeling it anymore. I had started to grow up.
Number 2: Sting
Time Frame as My Favorite: 5/17/92 - 4/3/95
Why: Hulk left me…but my favorite guy in WCW was just getting warmed up. Sting stayed by my side. At Wrestle War 1992, he led his team through the most brutal, bloody War Games ever and came out on top. He was so charismatic and so colorful and I realized, even at such a young age, that he was a much better wrestler than Hulk.
Best Moment as a Sting Fan: Slamboree 1994. Vader had been such a thorn in Sting's side, so it was awesome to finally see a decisive victory against the Mastodon.
Worst Moment as a Sting Fan: I couldn't watch the Great American Bash live on pay-per-view because my family was doing something for my mom's birthday. When I got the replay and found out Sting lost the title to Vader, I secretly blamed my mother.
Most Embarrassing Moment I Shouldn't Really Share: In 1993, my sister drew a giant Sting face onto my pumpkin for Halloween…at my request.
Why I Jumped Off the Sting Wagon: Sting got watered down by Hogan coming to WCW. Now, Sting was just fighting the second-tiered heels like Big Bubba and Avalanche. He wasn't as exciting anymore. Besides, someone else started to capture my imagination.
Number 3: Shawn Michaels
Time Frame as My Favorite: 4/3/95 - 4/20/98
Why: I was starting to understand why he was so great before Sid powerbombed him like 56 times in a row before Big Daddy Cool came out to save his former friend. After that night, though, HBK was my god. He was the coolest. I WAS IN THE KLIQ!!!! From the matches to the swagger to the heart to the stripping, HBK was the guy I wanted to be when I grew up.
Best Moment as a HBK Fan: Wrestlemania XII when the boyhood dream came true…for two people (this one was so hard to choose for).
Worst Moment as a HBK Fan: In Your House 4 when he came out looking like Tina Turner and had to vacate the title to Dean Douglas. Damn those Marines!
Most Embarrassing Moment I Shouldn't Really Share: I drew a picture of Shawn Michaels doing his signature pose for art class. I'm pretty sure I forgot to draw him with the WWF Title, but I didn't forget all of his Slammys. I hope you are enjoying this.
Why I Jumped Off the HBK Wagon: I never really did. When he retired after WrestleMania XIV, I still considered him my favorite. I just needed a guy to root for that was working. When HBK came back, my allegiances were with other people already, but he was still my favorite of all-time back then.
Number 4: Goldberg
Time Frame as my Favorite: 4/20/98 - 1/23/2000
Why: I was maturing and needed a guy who wasn't a pretty boy or a softie. I needed a sawed off badass. When Goldberg beat Raven for the US Title, I knew that's who, for me, was "next." Everyone had Stone Cold; I had Goldberg.
Best Moment as a Goldberg Fan: Come on, really? Really? Georgia Dome. Hogan. New Champ. Awesome.
Worst Moment as Goldberg Fan: The evening of the Fingerpoke of Doom. He was left beaten in the ring just like everybody else.
Most Embarrassing Moment I Shouldn't Reallly Share: I had my last public freak out (that I can recall) on my parents at the mall until they bought me this Goldberg shirt from Spencer's that was two sizes too big for me.
Why I Jumped Off the Goldberg Wagon: WCW being incompetent. I didn't want to watch Da Man treated like Da Crap. Plus, he was hardly ever around long enough to feel good watching him because he was too busy punching vehicles.
Number 5: Triple H
Time Frame as my Favorite: 1/23/2000 - 10/7/2002
Why: I was getting smarter and appreciating certain aspects of wrestling a lot more. One of them was a great heel. Triple H was so great at being so bad. When he took it to Cactus Jack two months in a row, I knew he was legit. You couldn't help but love what a douche he was.
Best Moment as a HHH Fan: The MSG return. If you didn't click on the link from Tope's article, do it here. Incredible.
Worst Moment as a Triple H Fan: Losing to a returning Hulk Hogan one month after winning the Undisputed Title. See whose stroke is bigger? Hogan>HHH>Jarrett>Barry Horowitz.
Most Embarrassing Moment I Really Shouldn't Share: Getting caught by my mother giving my pillow a Pedigree from the top of my bed in the middle of the night.
Why I Jumped Off the HHH Wagon: Becoming an internet wrestling fan and learning the truth behind the scenes. Also, he became really stale when he was just given the World Title and starting killing careers like it was breakfast. Of course, there was the whole Katie Vick thing as well. I passed HHH off to our good friend, Andrew Zangre.
Number 6: Matt Hardy
Time Frame as my Favorite: 10/7/2002 - 7/17/2003
Why: Sigh…I was an MFer. The whole gimmick was great. He took the ball and ran with it. He was funny, it was unique and he was in shape. Matt Hardy looked like he could actually be the Michaels.
Best Moment as a Matt Hardy Fan: The 2003 Royal Rumble when he stole the entire match with his mannerisms and charisma. Shannon Moore helping him out a la Virgil still makes me laugh.
Worst Moment as a Matt Hardy Fan: Losing to Chris Benoit in the US Title Tournament Semifinal. He put on a career-making match and Benoit broke his nose. He never regained his momentum.
Most Embarrassing Moment I Really Shouldn't Share: My AOL name was MuLLitudeV1 and I used to write fake Mullitude facts like the ones that appeared in his entrance video.
Why I Jumped off the Hardy Wagon: It never took that second step. I used to think that WWE dropped the ball on him, but now I think he didn't have enough to drag the character out beyond nine months. Plus, he jobbed to Zach Gowen.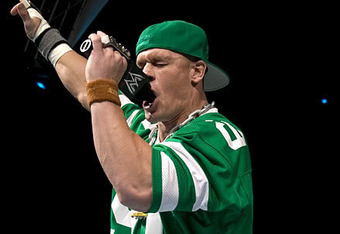 Number 7: John Cena
Time Frame as my Favorite: 7/17/03 - 06/18/2005
Why: John Cena was original. He wrote his own stuff. He was a cool heel. He looked different. He was funny. Remember all these things about John Cena? Cue up Edith Bunker because those were the days.
Best Moment as a John Cena Fan: The Smackdown promo he cut on Kurt Angle before No Mercy 2003. He showed he could be serious and he showed fire.
Worst Moment as John Cena Fan: Wrestlemania 21 when he beat JBL for the WWE Title. In that match, I had a gut feeling on what was coming.
Most Embarrassing Moment I Really Shouldn't Share: My Yahoo email is still This e-mail address is being protected from spambots. You need JavaScript enabled to view it . Maybe I can still find some of the BATTLE RAPS I wrote back in high school in my old inbox.
Why I Jumped off the Cena Wagon: The rumblings of Super Cena on top of the realization that he wasn't funny anymore. I needed a guy who had more passion. I needed a guy who had more realism. I needed…
Number 8: CM Punk
Time Frame as my Favorite: 06/18/2005 - Present
Why: He was everything great about wrestling. He was real. He could work. He could talk. He made you have faith that the business is growing.
Best Moment as a CM Punk Fan: Cashing in Money in the Bank number one. I was standing on my couch. We made it. I truly felt like "we" made it.
Worst Moment as a CM Punk Fan: Losing that same title because of a fricking punt to the head. In a roundabout way, I blame Manu.
Most Embarrassing Moment I Shouldn't Really Share: I acted like a total mark buttface when I met him with Zangre before One Night Stand in 2007. Zangre also brought Wheaties for him to sign.
Why I am Still on the Punk Wagon: I'm not even dignifying that with a response.
That's my wrestling life right there. Some good, some bad, some ugly. Haven't we learned by now that's wrestling? Who knows? Maybe Punk will put on 60 pounds and start doing the Worm. Maybe I will lose faith in wrestling's savior. Maybe I will find that I really like former TNA TV Champion, Gunner.
Nah.
Whatever happens, never second guess change. It's good for the business in one way or another.